Eat Your Wheaties! Bread Recipe
Or muffins. You can make muffins with this recipe, too!
This is a great recipe for that leftover cereal hanging around in your cupboard. You know what I'm talking about - that cereal your kids refuse to eat. Here's a way to get them to eat that cereal and get some whole grain into their diet.
Ingredients: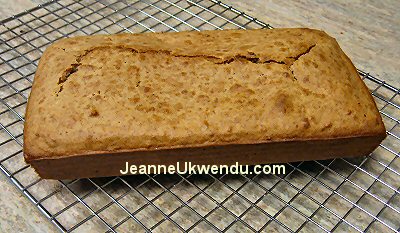 2 cups Wheaties Cereal
1 1/4 cups milk
3/4 cup unbleached white flour
3/4 cup whole wheat flour
2 teaspoons baking powder
1/4 cup brown sugar
1/4 teaspoon salt
1 t cinnamon
1/2 t nutmeg
1 egg, slightly beaten
1/4 cup vegetable oil
1 teaspoon vanilla extract
Method:
1. Place cereal and milk into a bowl and let stand. I put it in my Kitchen Aid mixer & turn on the mixer to low speed to help the cereal mush up faster.
2. Mix together flours, baking powder, brown sugar, salt, cinnamon, and nutmeg in a separate bowl.
3. Add the egg, vegetable oil, and vanilla to the Wheaties and milk mixture. Mix together.
4. Slowly add in the dry ingredients until well mixed.
5. Pour into a greased bread pan. Bake at 400 degrees for about 40 minutes.
Variations:
*I have used Cheerios, bran flakes, wheat flakes, etc. for the Wheaties.
*You can substitute all purpose flour for the wheat and/or white flours.
*You can use white sugar or Splenda for the brown sugar.